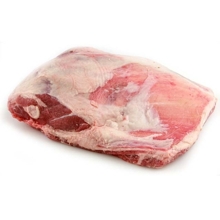 Lamb Shoulder – Whole
Whole lamb shoulder contains the arm, blade, and rib bones. This cut is usually prepared by roasting and although slightly more difficult to carve is one of the tastiest lamb roast options!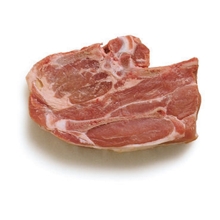 Lamb Shoulder Blade Chops
Lamb shoulder blade chops are cut from the blade portion of shoulder and contain part of the blade bone and backbone. They are usually prepared by braaing, braising, grilling, or pan frying.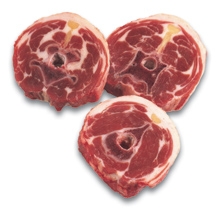 Lamb Neck Slices
Lamb neck slices are cross-cuts of the neck portion containing small round bone. Lean meat is interspersed with connective tissue. Neck slices are usually prepared by braising and are preferred for stews and lamb curry.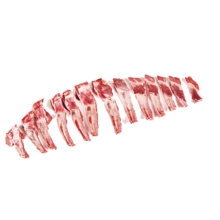 Lamb Breast Riblets – "Ribbetjie"
Lamb breast riblets are cut from the breast and contain ribs with meat and fat in layers. The cuts are long and narrow and are usually prepared by braaing, braising or by cooking in liquid. When left whole the "ribbetjie" on the braai is a South African favourite! Also excellent as an oven roast.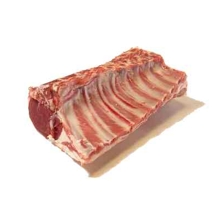 Lamb Rib Roast – Rack of Lamb
Lamb rib roast contains rib bones, backbone, and thick, meaty rib eye/ loin muscle. Lamb rib roast is usually prepared by roasting. A whole breast or ribbetlie – (without the rib eye/ loin muscle) is a South Africa braai favourite.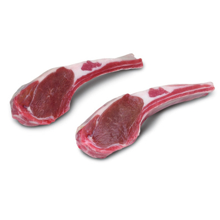 Lamb Rib Chops
Lamb rib chops contain backbone and, depending on the thickness, a rib bone. The chops have a meaty area consisting of rib eye muscle. The outer surface is covered by fat. Lamb rib chops are usually prepared by braaing, grilling, pan frying, roasting, or baking.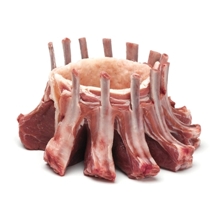 Lamb Rib Crown Roast
Lamb rib crown roast is cut from half of the rib. The rib bone is trimmed one to two inches from the end. The ribs are curved and secured to resemble a crown when the roast rests on the backbone. This cut of meat of usually prepared by roasting.